World Cup Special: 7 life lessons from 7 inspirational Cristiano Ronaldo quotes
This post has already been read 2800 times!
The Portuguese international has not only amazed everyone with his skills on the field but has been an inspiration to many people all around the globe.
Ronaldo with his five Ballon d'Or awards is one of the greatest players to have ever played the beautiful sport of football, which is cherished by billions.
The 33-year-old has not only achieved everything at the club level but also has inspired his country to the European Championship in 2016 and will look to do the same in the ongoing World Cup.
Born and raised on the Portuguese island of Madeira, Ronaldo has come a long way and is now the World's most famous athlete. The Real Madrid's all-time leading scorer time and again showed that determination and hard work is the key to success.
While the numbers have been discussed by many, the life lessons the Portuguese captain has to given all throughout his career have not been appreciated on a regular basis.
So, here are 7 life-lessons that we can learn from 7 of his quotes:
---
#1 Take inspiration but never get jealous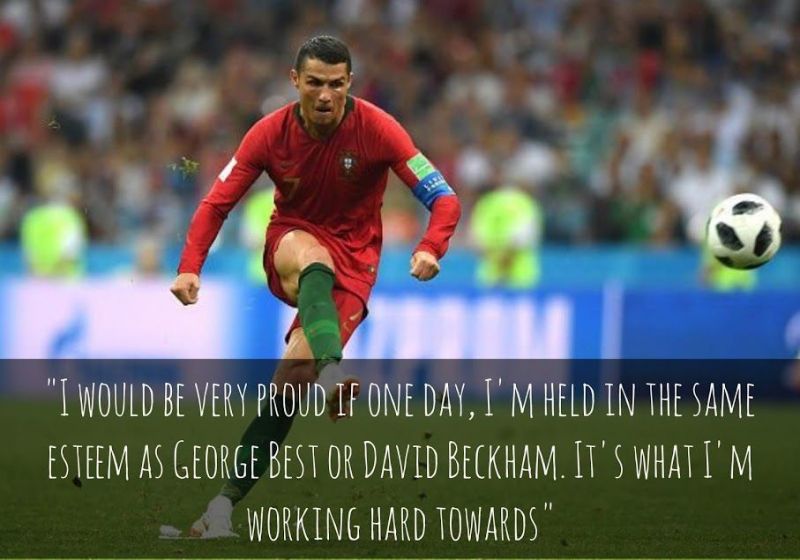 "I would be very proud if one day, I'm held in the same esteem as George Best or David Beckham. It's what I'm working hard towards." – Ronaldo
Every individual is different in his/her own right and it is not right to compare oneself with others. The craft and talent an individual possess come from within and are unique in their own ways. They are not dependent on what others are doing. So, it is better to take inspiration from others rather than being jealous.
#2 Never stop learning and evolving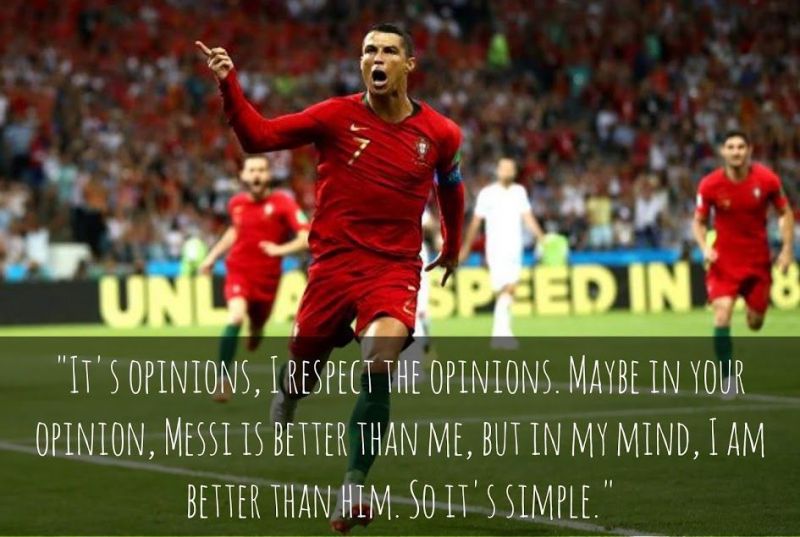 "You have to work so hard, I do this every day. This is why I have been at the top level for many, many years" – Ronaldo
Over the years, Cristiano Ronaldo has transformed from a very skinny youngster to one of the greatest players of the game.
It is important to embrace the flaws and believe in the opportunities that come one's way. So the process of learning and evolving should never cease.
The world is full of talented people and of those, there are more failures than the ones who have succeeded. Talent matters less. What really matters is the hard work and dedication.
#3 Take hate as motivation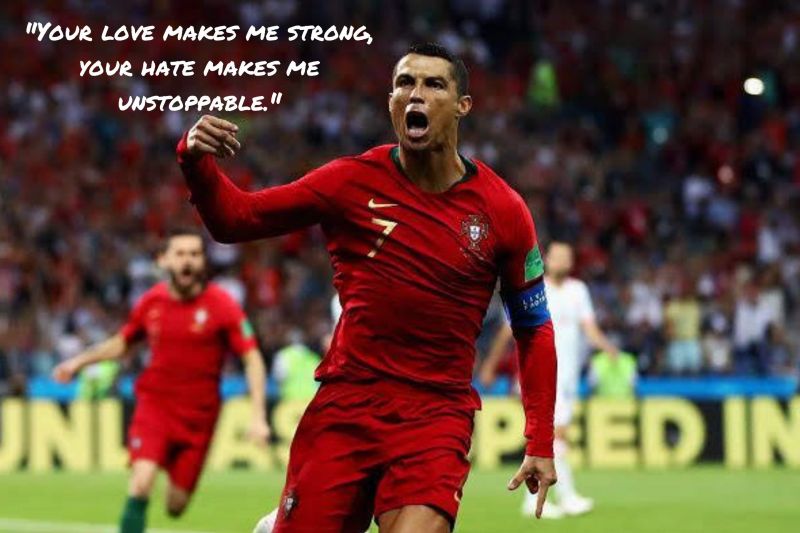 "Your love makes me strong, your hate makes me unstoppable." – Ronaldo
Ronaldo, who is loved by many fans around the world, also has a few haters from rival clubs. More often than not, he has managed to silence them with his brilliance on the pitch.
Life is short, so it is better to stay away from negativity. It is important to not get demotivated by the hate. Instead, the hate can be taken as motivation to prove haters wrong.
#4 Only limit is the one which exists in your mind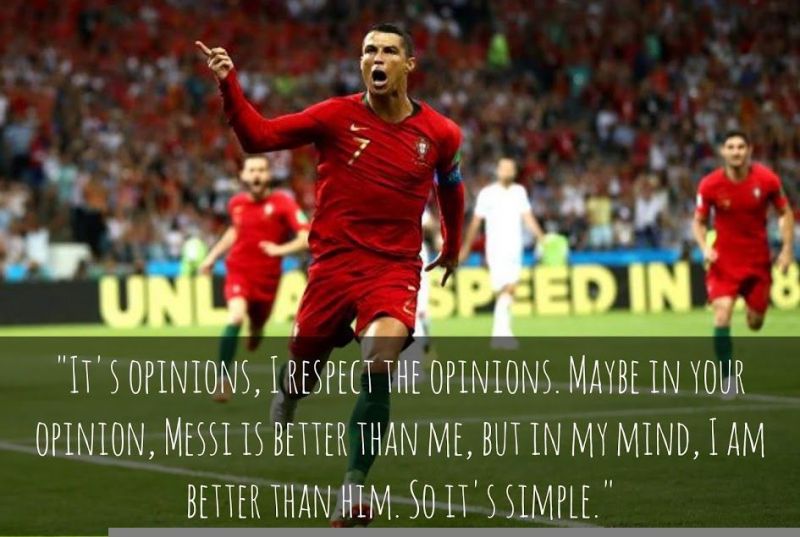 "Its opinions, I respect the opinions. Maybe in your opinion, Messi is better than me, but in my mind, I am better than him. So it's simple." -Ronaldo
The debate on who is the better player might never end but Ronaldo has made a few things clear. The only limit that exists is in the mind of an individual. With ambitious goals that drive forward, it is possible to overcome all sorts of challenges.
In spite of achieving so much, it is Ronaldo's unending hunger to give his best at all time that differentiates him from the rest.
Having addictions is not a good attribute but being addicted to progress is a class apart. To achieve great progress it is important to have ambitious goals.
#5 Don't just talk about what you want to do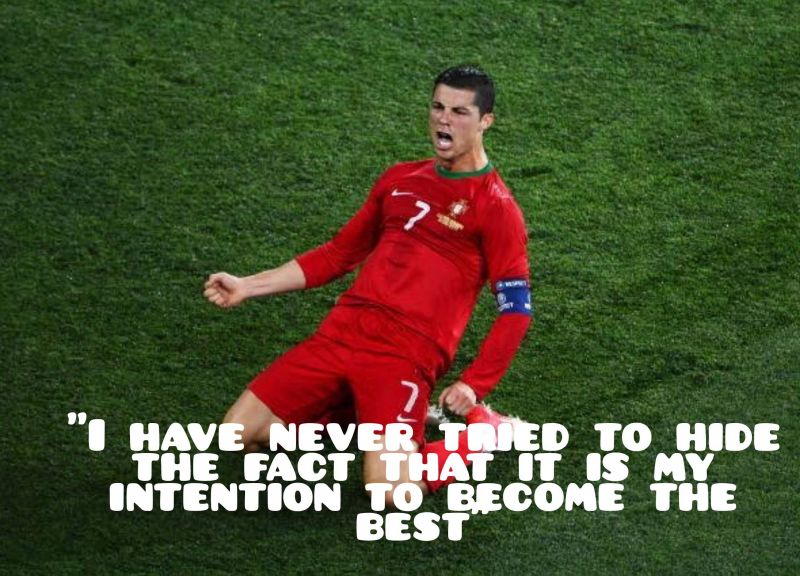 "I have never tried to hide the fact that it is my intention to become the best." -Ronaldo
Greatness cannot be achieved overnight. It can be achieved through hard work, not by talking about it. The position that Ronaldo is in is a culmination of the efforts made by him in the past 33 years. Just like him, every individual has to work hard every day and then nobody can stop him/her from becoming great.
It is important to believe in the ability to become great and strive for it every minute. By setting powerful intentions every day, every month, every year, it is possible to go beyond one's own reach and to grow to the next level.
#6 Challenge yourself, not others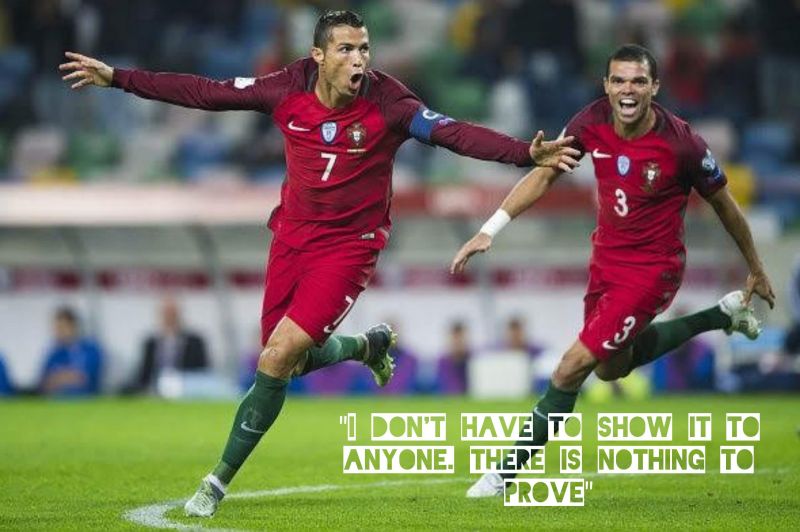 "I don't have to show it to anyone. There is nothing to prove." -Ronaldo
The only person one must compete with is the individual that they were yesterday. Challenge yourself to become better, not by challenging others.
The quote by Ronaldo shows that he doesn't play to prove his point to someone else. He plays for his own satisfaction and challenges himself to reach the goals that he has set for himself.
#7 There must be a greater purpose to what you are chasing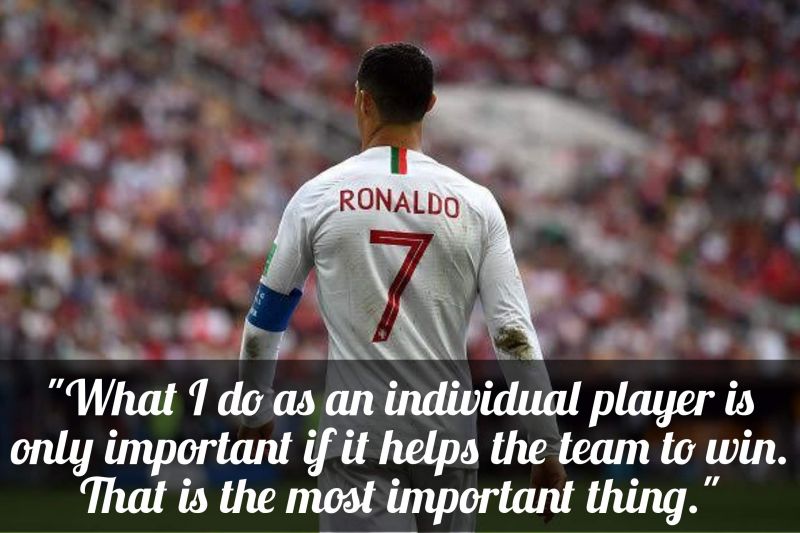 "What I do as an individual player is only important if it helps the team win. That is the most important thing." – Ronaldo
At times, Ronaldo is accused of being selfish but that is not the case. The Portuguese legend himself acknowledges the fact that in a team sport, it is not the individual achievements that matter, it is the team's victory that matters the most.
When a player is trying to score a goal, it is for the whole team. Just like that, there must be a greater purpose to what a person is trying to achieve. It is important to not just chase materialistic things like money or fame. When goals ignite a burning desire inside an individual, he/she will conquer all the obstacles that come their way.
Source: [Sportskeeda]
Comments
comments